Er zijn veel factoren waar je rekening mee moet houden als je geen dierlijke producten meer wilt eten. E-nummers zijn er daar eentje van, want deze bevatten regelmatig dierlijke stoffen. Sinds mijn vegan challenge kreeg ik regelmatig de vraag of ik een lijstje met dierlijke e-nummers op een rijtje kon zetten. Of course I can! Met de lijstjes hieronder kun jij makkelijk checken of er bijvoorbeeld E920 L-cysteïne in het brood zit dat je wilt kopen.
WAT ZIJN E-NUMMERS?
E-nummers zijn (door de Europese Unie goedgekeurde) stoffen die aan voedingsmiddelen worden toegevoegd. Denk hierbij aan kleurstoffen, smaakversterkers en conserveermiddelen. Er bestaan inmiddels honderden van deze goedgekeurde E-nummers en je vindt de namen of het E-nummer altijd terug op de achterkant van het etiket.
DEZE E-NUMMERS ZIJN NIET VEGAN
De Vereniging voor Veganisme maakte een handig E-nummer kaartje met alle E-nummers die je binnen een vegan voedingspatroon wilt vermijden. Je kunt deze blog opslaan in je favorieten of een printje maken van het E-nummer kaartje en in je portemonnee stoppen. Dan heb je het overzicht altijd bij de hand!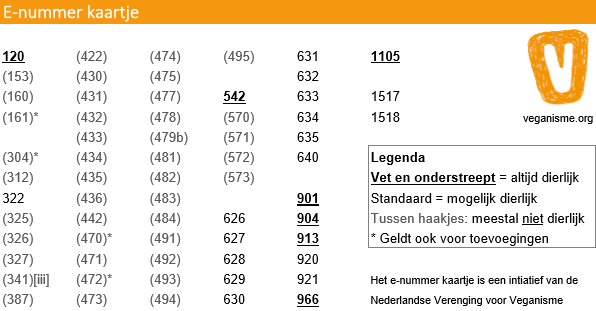 Omdat niet altijd het E-nummer wordt vermeld op de achterkant van het etiket, maar ook wel eens de volledige naam van de stof, is het belangrijk dat je alle ingrediënten goed blijft controleren. De volledig uitgeschreven namen van de stoffen vind je onderstaand, achter de bijbehorende E-nummers.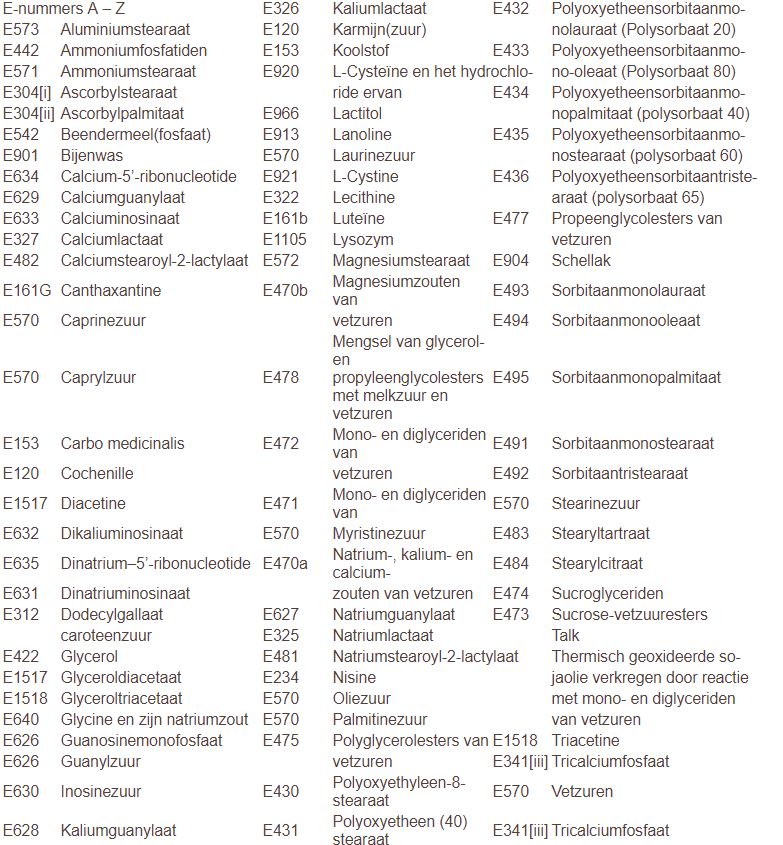 Wil jij nog meer weten over E-nummers of heb je andere vragen? Laat het me weten, dan ga ik het voor je uitzoeken. Liefs, Mariette
Bronnen: Voedingscentrum, Nederlandse Vereniging voor Veganisme